World's Most Dynamic
Turbines
Engines
Hydraulic Motors
Compressors
Pumps
Invest / Sponsor

Want to invest in Vengeance Power or sponsor new world-changing projects?
Click HERE to send us an e-mail or go to our CONTACT page for more information.
SPONSOR PROJECT 001 – SETTING A NEW LAND SPEED RECORD FOR STEAM POWERED VEHICLES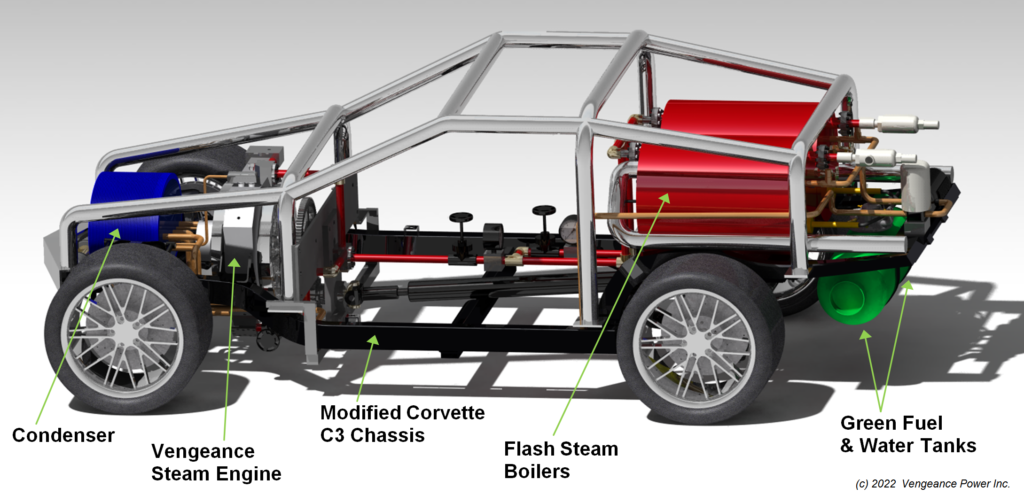 A Vengeance Power Steam Engine will be fitted to a suitable vehicle driven by steam from a custom built flash steam generator. The heat source for the steam will be from any green or renewable fuel source such as biofuels, biomass, waste oils, waste products, etc. Hydrogen and other zero-carbon fuels can be used also.
Aiming to beat the current land speed record for steam powered vehicles set in August, 2009. The record holds at 139.843 mph (225 km/hr) over two consecutive runs over a measured mile and 148.308 mph (239 km/hr) over two consecutive runs over a measured kilometer.
Shown above is a 3D model of the steam power plant arranged within a modified Corvette C3 chassis. A custom body will be fitted to it that will display all the names of the contributing sponsors.